Monday, April 11, 2005
Or "Other Blogs I Contribute To"
Charmaine Shouts
politics, religion, and other things to shout about
Crafting with MaryAnn
arts, crafts, and cooking
Get Samuel Married
sam is my little brother - and the only boy with 4 sisters - and he's single
A Princess Am I
in church, i teach the 12 and 13 year-old girls, this is a place for my resources and adventures


Get the buttons...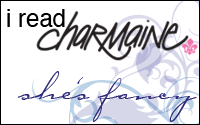 Friday, April 08, 2005
My mom taught me a lot of stuff from painting and flower arranging to how to properly clean a kitchen sink and make a roux. More importantly, she taught me that I could do anything and everything I wanted - because she did. She plans weddings and teaches children in church. She made beautiful stained glass pieces and her own jewelry. She taught me how to oil paint when I was just 6 years old. She learned how to play the piano and the harp as an adult and she is constantly reinventing her kitchen. It's fun to craft and decorate with her because inevitably, she will figure out a way to do my crafts better, and I will figure out a way to arrange her finials better.
That's what this blog is all about - everything. All the things I love to do and that make me proud of who I am. The way I hope everyone feels. That they can be who they are and embrace it. Just the way my Mommy taught me.
Well, as you may have deduced, my name is Charmaine and I am married to Randal. We were married at the end of 2002 in the Mesa Arizona Temple. We have two boys, Israel, born in 2005, and Elijah, born in 2008. I love all my boys - alot.
I consider myself a 6th generation Arizonan, although I was born in Provo, UT. Ask me about it sometime. I lived in The Valley of the Sun, otherwise known as the Phoenix metro, for 20+ years and LOVE the desert! I love the way Phoenix is laid out and I really think the desert is a beautiful place. I also love cold, cold winters. Why? Because I HATE HATE HATE, with a burning passion, bugs. A few times a year I will have a dream so scary that I act out in my sleep - it's usually whimpering but it has been known to escalate to screaming or jumping off my bed. Every single time it is because I was dreaming about bugs of some kind.
I am the oldest of 5 children - and ironically, so is my husband. It's been fun. I have 3 sisters and 1 brother. My brother is still single if anyone out there knows of some awesome single lady. Two of my younger sisters are beating me in the children race, and the third is well on her way. I'm ok with that though. My husband has one brother and three sisters also. I love his sisters a lot and consider myself so lucky to have them! Randal's BFF from way back when we also consider family. Luckily I really like him, and guess what? His wife is my BFF! We miss them when we don't live near them.

My parents taught me well. Everything I know is a direct product of the way I was raised and the things I was taught.
Right now we live in Iowa while my husband is working on a PhD in Genetics. While he's at school, I'm on my computer. I love photography and design and that is what I spend most of my time doing. When I'm not doing that I'm playing with my boys or thinking about cleaning my house. I also love art and crafting. Mostly, I love recreating wonderful things I find in my www wanderings.